HERE'S A BIT OF CHAT WITH KEVIN CARLYON
TAROT CARD READINGS BY KEVIN CARLYON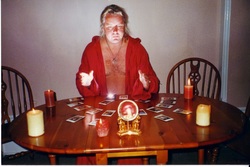 ---
SO WHERE IS MY WIFE SANDIE IN ALL OF THIS? HERE IS A 'CORNY' ARTICLE FROM 'FULLHOUSE' MAGAZINE IN OCTOBER 2011. (Spot the errors)!
SPELLS FOR ALL PURPOSES
kevincarlyon@aol.com
+44 7851 686613 outside of UK
07851 686613 from UK
TEXT ON EITHER NUMBER
PLEASE NOTE -
I GET RESULTS BUT I
​DON'T GIVE TIMESCALES.

---
A VERY STRANGE BUT TRUE STORY​

---
Page 11