POSSIBLY BRITAINS MOST POWERFUL WITCH - KEVIN CARLYON
SO CAN I HELP YOU?
You name it I've been asked to do it. My spells have included everything from creating a protective talisman for the Space Shuttle to protecting Nessie! see
http://www.lochness.co.uk/
So lets come a little more down to earth and onto dry land. I never say I can't do anything until I've given it a try. My Spells cost between £30 - £150 depending on what for and whats involved. I am accessable by phone until a person becomes a nuisance ie needing daily reassurance or is constantly giving me small snippets of info.
Because I agree to do a spell doesn't mean that I sympathise with the wished for result, particularly in affairs.
I help with love, luck, impotence, fertility, employment, finance, curse / jinx removal, bringing back a loved one, weight loss / gain, promotion, confidence, fame and fortune and many, many more things. Contact me at kevincarlyon@aol.com
---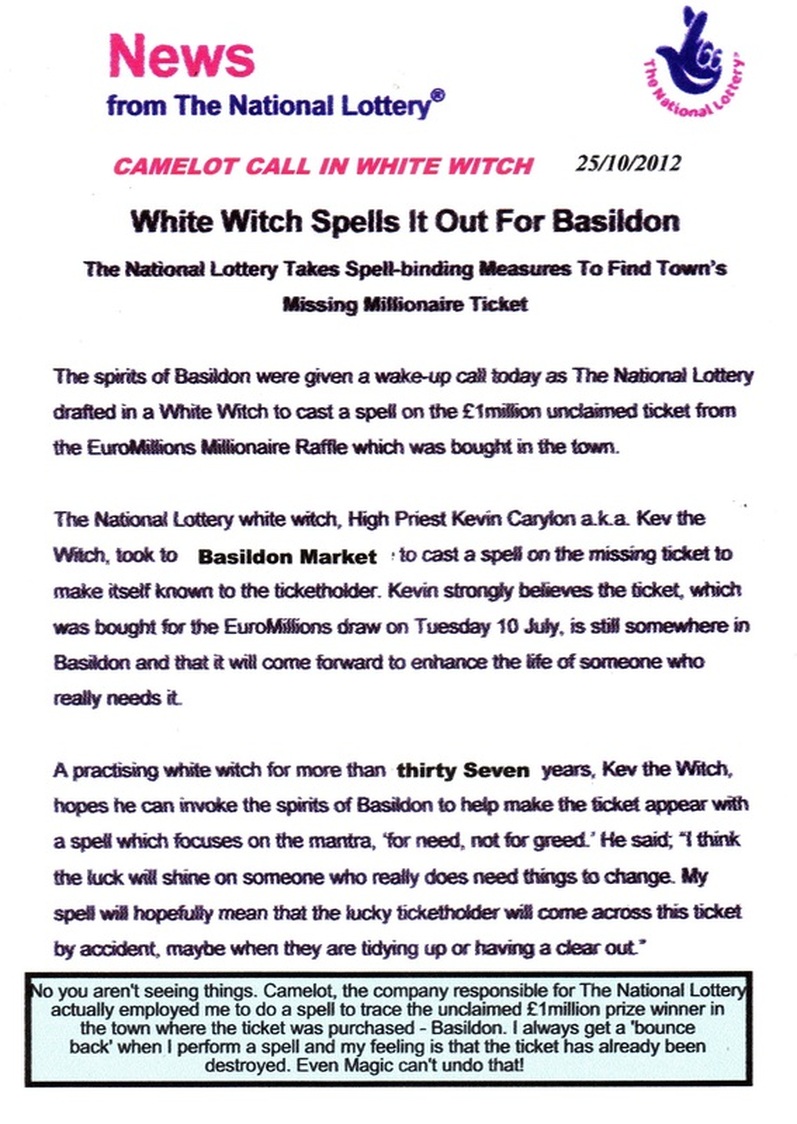 BRITAIN'S NATIONAL LOTTERY WITCH
I VERY OFTEN GET ASKED IF I CAN PRODUCE A LOTTERY MILLIONAIRE. THE SIMPLE ANSWER IS NO. I CAN HELP PEOPLE WIN ENOUGH TO GET OUT OF GENUINE FINANCIAL PROBLEMS BUT YOU MUST REMEMBER THAT MY MOTTO IS 'FOR NEED - NOT FOR GREED' . WHEN I CAST A SPELL I KNOW IF THERE IS GOING TO BE A GOOD RESULT. SADLY IN THE BASILDON SPELL AT THE REQUEST OF CAMELOT THE 'PING BACK' I HAD WAS THAT THE TICKET HAS ALREADY BEEN DESTROYED AND EVEN OCCULT SCIENCES CAN'T MAGIC THAT BACK. THAT IS NOT WHAT MAGIC IS ALL ABOUT. THERE ARE RULES THAT I HAVE TO ABIDE BY MYSELF TO ENSURE THAT I USE WHAT CAN BE VERY DANGEROUS ENERGIES IF NOT MASTERED CORRECTLY. IT HAS TAKEN YEARS FOR ME TO PERFECT MY GIFT, SO I DON'T USE IT LIGHTLY OR ABUSE IT!
---
I HAVE SET RULES THAT NEED TO BE ABIDDED BY TO HELP YOU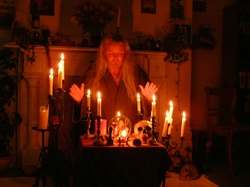 There have been such disasters as giving me the wrong date of birth, the wrong male or females name, the wrong part of the body for absent healing even muddling up a pets name with another. You must carefully think of the other persons happiness before asking me to bind them to you in love, particularly if they don't even like you! There is no such thing as purely White Magic so to know the White I know the Black. The latter is far more powerful but is only ever used as a last resort and most often to rebound Black Magic already cast by someone! .Any spell that I cast cannot rebound on you. SEE PAGE 33
---