MAGAZINE ARTICLES ABOUT ME ARE NOT TO POSE BUT TO LET YOU SEE WHAT OTHERS WRITE ABOUT ME - NOT JUST MY CLAIMS!
THERE IS A GOLDEN RULE IN ALL MAGIC - NEVER DO SPELLS YOURSELF FOR YOURSELF. THIS CAN BE VERY DANGEROUS IF YOU DON'T KNOW WHAT YOU ARE DOING AND CAN HAVE THE OPPOSITE EFFECT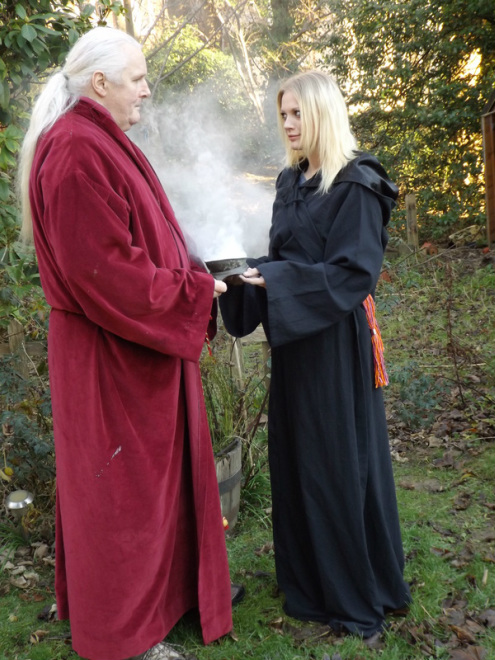 HAVE SOMETHING YOU NEED IN YOUR LIFE - LET ME ATTUNE MY MIND TO DO YOUR BIDDING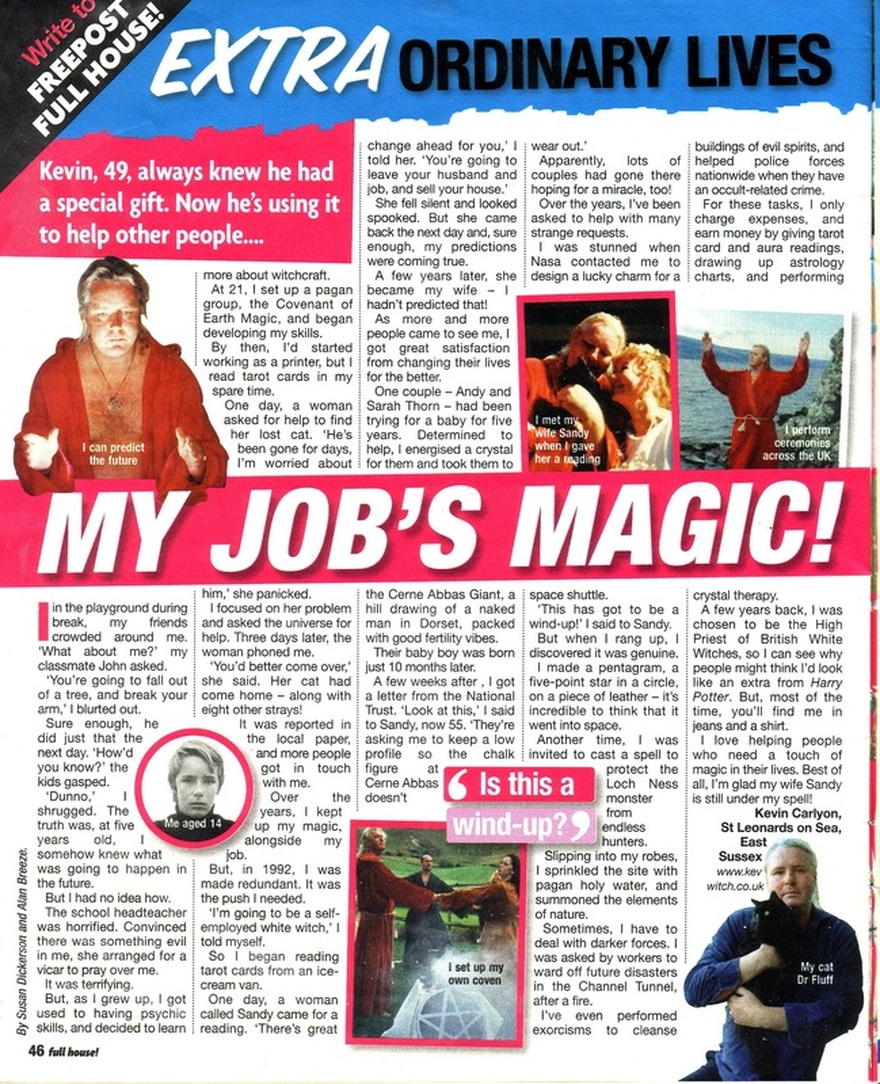 GONE ARE THE DAYS OF WITCH HUNTING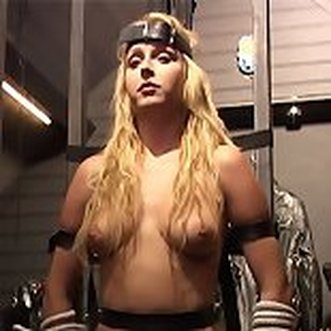 The days of Witches being hunted done and murdered are gladly gone as there is a law against everything nowadays but the REAL hunt is for you you to find a genuine person who will do the work that you require and get a result!

Most of the people murdered in the 16th - 17th century Witch Hunts were ordinary people who were just minding their own business. They were tortured murdered and hung or swum in England, whereas in Scotland, The Channel Islands, Europe and other parts of the world they were burnt at the stake. They had no special powers or gifts and thousands of innocent people died 'In the name of God'.

Sadly its the same with many who advertise their gifts nowadays, both for Spells and Tarot. They have no special powers or gifts and are conning people like you reading this site and getting your hopes up, taking your money, sometimes thousands of pounds / dollars for nothing. These people really should be persecuted for offering false hope. If you use me you will get results. I keep working on it, no matter how long it takes, to get the result that you desire.


---
SOMETHING TO CONSIDER BEFORE YOU MOVE ON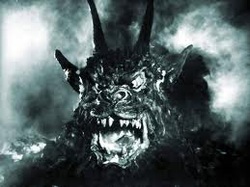 Devils and Demons are in the mind so you are never likely to be faced with a creature like this from the 1958 film 'Night of the Demon' but if they are projected right in a ritual, its a persons mind that will construe everyday bad happenings as a 'Demonic Attack' and it is their own fear and paranoia that destroys them in the end. BLACK MAGIC DOES NOT bounce back on its user three fold as the modern myth would have you believe. This has been invented to scare people into not trying it or using it to their advantage. (It is very similar to the myth that young boys are told 'Wanking makes you go blind'. Of course this is stupid and doesn't have that effect. It is simply introduced to deter kiddies from performing this act.
So what is BLACK MAGIC? Its the use of entirely the same force as White Magic without setting conditions for it to work. It goes 'straight for the jugular', no messing around, and I only employ this if the use of normal magic is strong enough. If I do use it for you there is no bounce back on you in any way.

---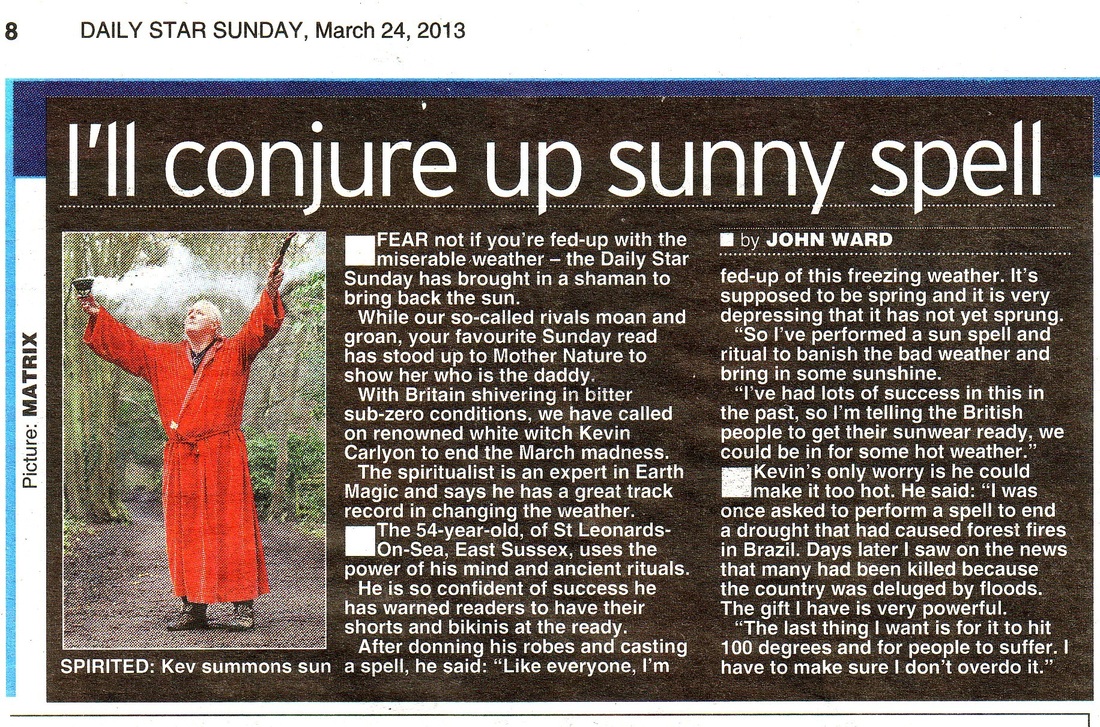 MAGIC IS ALL AROUND US BUT JUST LIKE ELECTRICITY, YOU CAN COOK WITH IT, OR KILL WITH IT!

IT IS VERY IMPORTANT THAT YOU READ THIS WEBSITE FULLY AND UNDERSTAND IT. NO EXCUSES.
​IF YOU ARE HAVING A LOVE SPELL TO BRING SOMEONE BACK YOU MUST NOT INDULGE WITH ANOTHER 'WHILE YOU WAIT'.

Page 3